You've got big ambitions for your organization, and your teams will play a big role in taking your company to the next level...if they can work effectively.
But based on the past few months, you're not so sure your teams are in great shape to accomplish great things.
After speaking with several managers and employees, you've noticed that there's quite a bit of tension within teams.
A few employees have shared that they feel like they're doing more than their fair share, which has you concerned they might start looking for jobs elsewhere.
Meanwhile, one employee candidly shared that they feel their team has no clear direction, and that they're interested in a job where they feel like they have insight into the big picture.
What's alarming is that you haven't heard these things from one team. You've heard these things from several.
Yikes. Not a recipe for outstanding performance.
Research shows that effective teams have "enabling conditions" that help them work well.
It's not about the personality traits of individual members of the team. These enabling conditions are a compelling direction, strong structure, a supportive context, and a shared mindset.
But how do you know that your managers are delivering these things to their employees?
When your managers are working hard and constantly thinking about their team, it's easy for them to get defensive.
At the same time, if they want to get the best results, it's important that they put emotions aside in order to be objective.
An engagement survey that asks your teams questions related to team effectiveness can help your managers be objective.
Plus, it can give you the trends data you need by asking teams the same questions periodically, so you can measure how much improvement they've made.
This can also show you which activities are leading to higher scores, so you can encourage your managers to double down on those behaviours.
Here are a few team effectiveness survey questions to get you started.
My team has clear goals.
Do your teams have clear goals?
Clear goals lead to higher performance within teams, but not all managers hit the mark when it comes to setting them.
It's important to ask this question in your team effectiveness survey.
For managers, it may seem as if they're setting clear goals, because they know what needs to get done. But their team might not be entirely sure what they're looking for.
Here are a few strategies they can use to set team goals:
Set realistic goals: Managers shouldn't let their ambitions get bigger than their team's capacity. They can start with small, but challenging, goals that help their teams marshall their energy towards a shared objective without overwhelming them. These "quick wins" can build up morale and encourage teams to start working towards even greater goals. If managers do have a big, long-term goal, they can break them up into smaller goals that pave the way towards that grand objective.
Write down goals: Encourage managers to write down their goals and put them someplace visible, whether that's at the top of a weekly email they send to their team or at the top of a whiteboard. This serves as a visual reminder of the goal and helps their team stay focused. When people write down their goals, they're up to 1.4 times more likely to achieve them.
Make goals S.M.A.R.T.: It's tempting to set vague, aspirational goals like, "Improve sales" or "Increase scores on customer satisfaction surveys." Managers must work with their team to develop goals that are Specific, Measurable, Attainable, Realistic, and Timebound. A better version of those earlier goals would be, "Improve our sales of accounting software by 15% by the end of Q2." or "Achieve an 8 out 10 or higher on 95% of customer satisfaction surveys by the end of Q4."
Keep revisiting goals: It takes consistent time and effort to accomplish goals, which means managers will need to follow up on them with their employees. Ask managers to schedule meetings with their team members to find out what they need, what roadblocks they're facing, what questions they have, and more. This way they can keep things on track and prevent small issues from debilitating the entire effort.
Give team incentives: Why should team members put their all into meeting a goal that may be slightly outside of their day-to-day job? It's up to managers to provide some kind of incentive whether that's raises, promotions, or a group incentive like time off.
Celebrate the wins: Your teams' goals likely consist of small milestones. Every time they reach one (e.g., booking 20 calls with leads, creating a new training program for call centre representatives), they should be celebrated. Managers can do something as simple as shouting them out to the rest of the team or having a team lunch.
People in my team have specific clear goals.
Does each member of a team have a goal to work towards? Even if there's a team goal, managers should consider assigning each team member a sub-goal that contributes to that larger objective.
They can either create these goals for their team, or ask them to develop goals themselves by:
taking the larger team goal into consideration
using the S.M.A.R.T. goals method to set a goal that is specific, measurable, attainable, realistic, and timebound
identifying pain points either they face or that the team faces
identifying an area where they'd like to develop professionally and setting a goal that lines up
Once each team member's chosen goal has been approved, it's important to provide some kind of incentive.
In addition, decide on the metric that will be used to measure each team member's progress towards meeting their goals and look at how well they're performing against these metrics during regularly-scheduled check-in meetings.
In addition, don't be afraid to adjust the goals over time.
One mistake managers – or anyone working towards a goal – often make is thinking goals have to be set in stone.
Goals help you identify what's important and what needs to be done, but sometimes they need to be tweaked as new information becomes available.
Perhaps your company introduced a new platform that fixes a lot of the process problems a team member was going to fix. That's fine. Adjust or redirect that team member's goal while acknowledging the effort that's gone into meeting the original goal.
My team is getting the results that are needed and expected.
Team members rely on each other to get things done.
But if one part of the team is underperforming, it can negatively impact others who feel they have to pick up the slack or can't complete their own work.
If managers receive low scores on this question, there are a few steps that they can take.
Ensure everyone is clear on the goals and "big picture"
What is the team's guiding light? Is it ensuring customer success? Is it ensuring 99% uptime? Is it organizing impactful events that build engagement and brand awareness?
People can spend years performing the day-to-day functions of their role without really thinking about the big picture or the "why" of what they're doing.
Use this as an opportunity to remind everyone, so they can contextualize their work.
Assign tasks to team members based on their strengths
Ask managers to evaluate the current division of labour on their teams.
Are people working on the things they're good at? Sure, work is work and people will sometimes have to do things they don't love, but where possible, managers can look for opportunities to align their team members' responsibilities to their strengths and interests.
It could be as simple as asking everyone to list what they'd like to do more of or less of.
Of course, managers must be clear that it's not a promise to grant everything on employees' wish lists, but an awareness exercise, so that they can offer what they can.
Create a shared view or dashboard of your team's progress & celebrate the wins
All managers can give everyone a view into how well the team is progressing towards its goals. This could be through a dashboard or something as simple as a visual representation on a whiteboard. This can serve as a source of motivation.
My team has good measures of our goals.
How do teams know when they're working successfully towards their goals?
Through KPIs.
KPIs are key performance indicators. They're how people measure whether they're on the right track or if they need to make adjustments.
Ask managers to reflect on the specific goals they've developed and use past data or their best judgement to set appropriate KPIs.
For example, if an employee's goal is to "Win 3 new customers by the end of Q4" their manager might expect the goal setter to speak to a specific number of prospects a day, book a specific number of demos a week, and send a specific number of proposals per month.
This way, employees don't have to wait until the deadline. They can see whether they're on track to meet their goals well in advance.
My team reviews results and performance frequently to make sure we're doing high quality work.
How often do your managers review KPIs and performance with their teams?
KPIs should not be set as a one-and-done exercise when goals are made.
Instead, they should be reviewed regularly.
If the KPIs are for a team goal, it's important for the team to come together regularly and discuss their progress.
At the end of the day, managers want their team to be doing meaningful work, not busy work. Busy work can leave top performers feeling bored and unmotivated, which can cause an engagement and retention issue.
Put check-in meetings in the calendar. This meeting isn't an opportunity to assign blame. Instead, it's a chance to focus on whether or not the team is meeting its goals. If a team isn't meeting its goals, it's a sign to figure out what needs to change to make that happen.
Create a visual representation of progress (e.g., whiteboard visual, virtual dashboard). This will be a team's shared, daily reminder of where the team stands.
Make sure objectives are clear. During every review, managers can remind the team of its objective and why it's doing what it's doing. Reminding team members of the goal can help them prioritize their work more effectively.
My team spends time identifying the barriers that make our work more difficult than it should be
How do teams in your organization approach barriers?
Do they identify them as a group and find solutions, or do they sweep them under the rug and expect everyone to individually work around them?
The best teams identify obstacles together and find ways to fix them. These barriers can be technological barriers, process barriers, a skills gap, or anything else that prevents them from meeting their objective.
It's important for managers to create opportunities for employees to eliminate obstacles.
A quick way to do this is by introducing daily standup meetings. These are 15 minute meetings where everyone outlines what they plan on accomplishing that day, and what stands in the way of getting their work done.
If someone needs a specific item from someone else on the team, they can address it then and there. If they need help with someone, they can raise their hand.
My team comes up with ways to reduce barriers.
Do your teams know how to come up with solutions?
On some teams, employees develop the habit of always coming to their managers with problems.
While it's important to have this open, trusting relationship, it's also important for team members to do the work of thinking through problems, coming up with potential solutions, and presenting these solutions to their managers.
Not only does this save time, it also gives employees a chance to think in a new way.
Encourage your managers to do this: The next time a member of their team comes to them with a problem or question, they can try asking them the following questions:
What do you think about that?
What are a few courses of action or solutions you recommend?
What would you do if I were out of the office?
It's a good idea for managers to approach these conversations as a learning opportunity, not as a way to pass judgement on an employee's abilities.
When someone does good work, people in my team openly acknowledge the person's effort and good results.
Over half of employees say that receiving appreciation would make them stay longer at a job.
Showing employees recognition and appreciation is not only a kind thing to do, but a business-savvy thing to do, since it can increase engagement and reduce turnover.
This appreciation and acknowledgement doesn't have to only come from managers. It can also come from fellow team members.
Ask managers to assess the energy of their team.
Are their team members happy for their colleagues when they achieve their goals, or are they resentful or indifferent?
One effective way to create a shared sense of success is to link how an individual's contribution has brought the entire team closer to meeting its team goal.
If there's a group incentive for the group goal, there'll be more genuine excitement whenever individuals go above and beyond.
When a decision is made, people in my team act in ways that show our support and commitment.
Do teams respect their managers' decisions, or are they resistant?
Even if teams grudgingly execute on a manager's plan, this isn't an ideal scenario since knowledge workers can easily hold back effort without it being detected if they don't feel invested in a course of action.
An effective way to obtain buy-in from a team is to include them in the decision-making process.
This makes it clear why a specific course of action was chosen. It also gives them a chance to deliver their feedback early in the process.
They can also contribute to the formulation of this decision, making them more likely to support it in the face of naysayers down the road.
A few benefits of including your team in the decision-making process include:
Getting your team's buy-in early in the process, before they have to implement a decision
Increased employee engagement
The conditions for better collaboration and communication are created
Identification of a manger's own biases and blind spots
People in my team have the skills and tools to come up with innovative and new solutions to the problems we face.
If your managers receive low scores in response to this question, it may be time to evaluate what skills their team possesses and what they're asking them to do.
Today, market needs are changing rapidly and companies are struggling to find the skills to keep up.
If a team feels they're being set up to fail or that they don't have the tools to thrive and grow professionally, they may begin searching for a better environment at another company. Consider encouraging managers to:
Ask their what the number 1 obstacle is to doing their work
Ask their team to create a list of skills or resources they wish they had, ranked in priority order
Seek out professional development or educational opportunities for their teams either in the form of resources, workshops, or a stipend that allows them to pursue training independently
People in my team are candid and honest even when the topic is tough.
Do teams feel safe sharing their opinions?
One of the key ingredients of an effective team is psychological safety, which is the ability to take interpersonal risks (e.g., suggest an idea that goes against the status quo, disagree with a colleague) without facing consequences or worrying that there will be consequences.
Candid conversations provide the foundation for creative problem solving, design thinking, and other approaches that help companies innovate.
If your managers received a low rank on this question, help them understand that psychological safety cannot be developed overnight. It takes time to build trust.
That said, they can start the process by telling their teams that all ideas are appreciated and providing alternative methods, such as email or an anonymous portal, to submit opinions until people feel comfortable sharing them openly.
The benefits of a robust employee survey platform
A robust employee survey platform such as Sparkbay can help leaders understand obstacles and opportunities and focus their efforts where it matters. It can also track engagement and satisfaction over time to identify which actions are working and which aren't.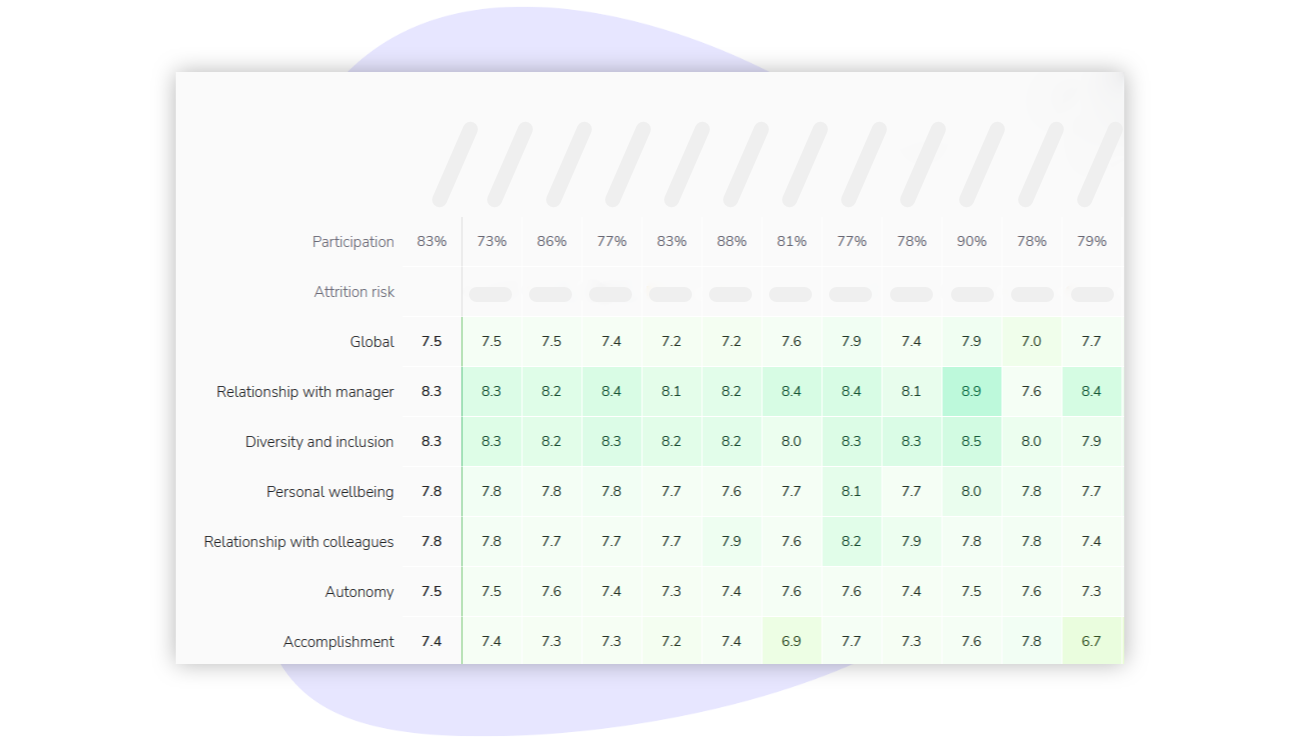 Explore employee data any way you want
It is important to be able to segment data based on demographics such as tenure and role. Sparkbay allows leaders to interrogate their data in any way they want to uncover deeper insights about their people.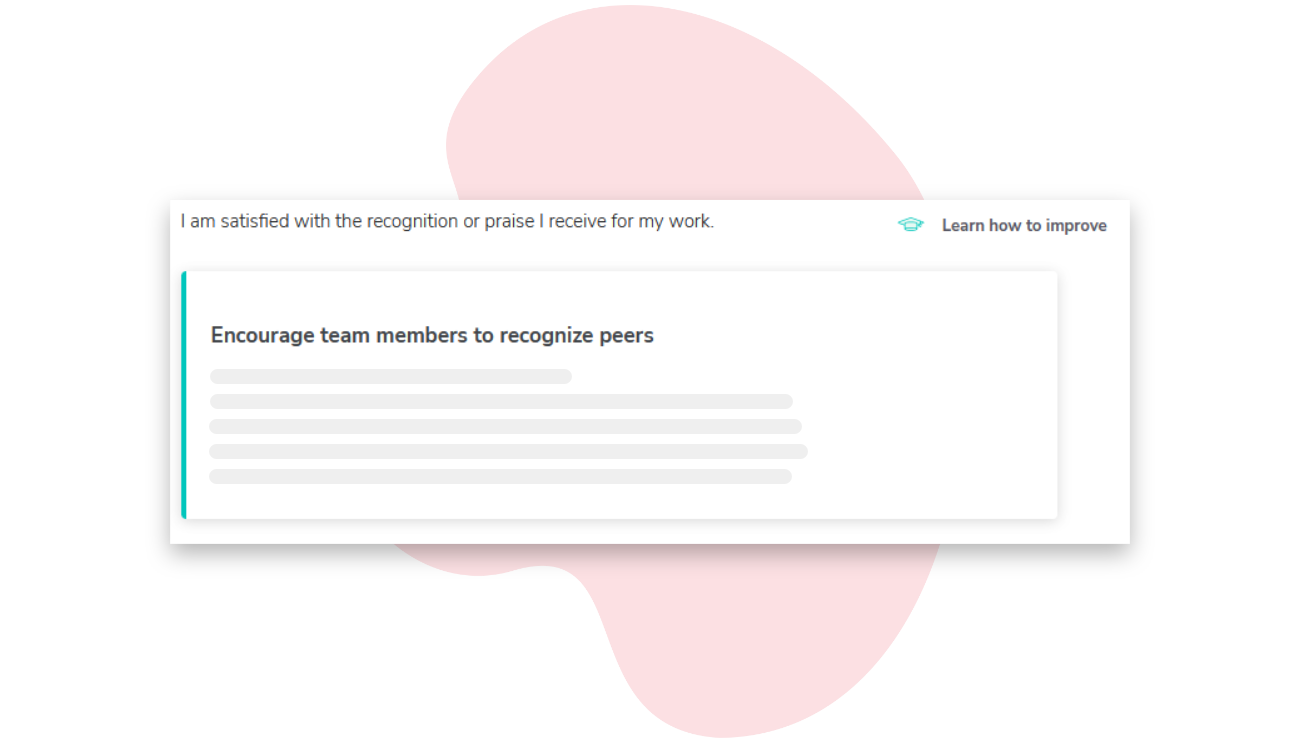 Empowers action
Surveying employees serves no purpose if leaders do not take advantage of the opportunities they discover. With Sparkbay's automated coaching, managers can act on easy-to-implement strategies. These tools drive action to ensure you meet your employee-centric objectives.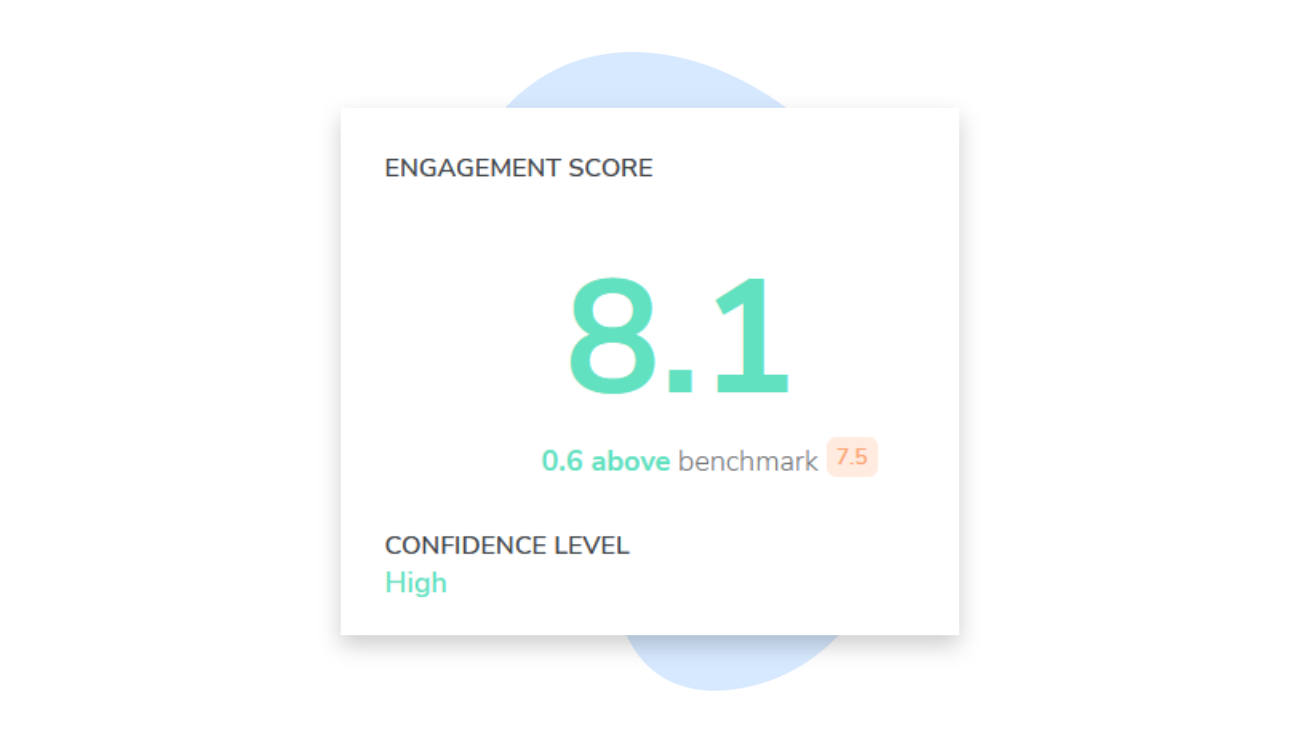 Provides robust benchmarks
Leaders need to compare their survey results with industry benchmarks to understand how they are doing. Using the right survey platform, you can compare your survey data with others in your industry, similar-sized companies, and top employers.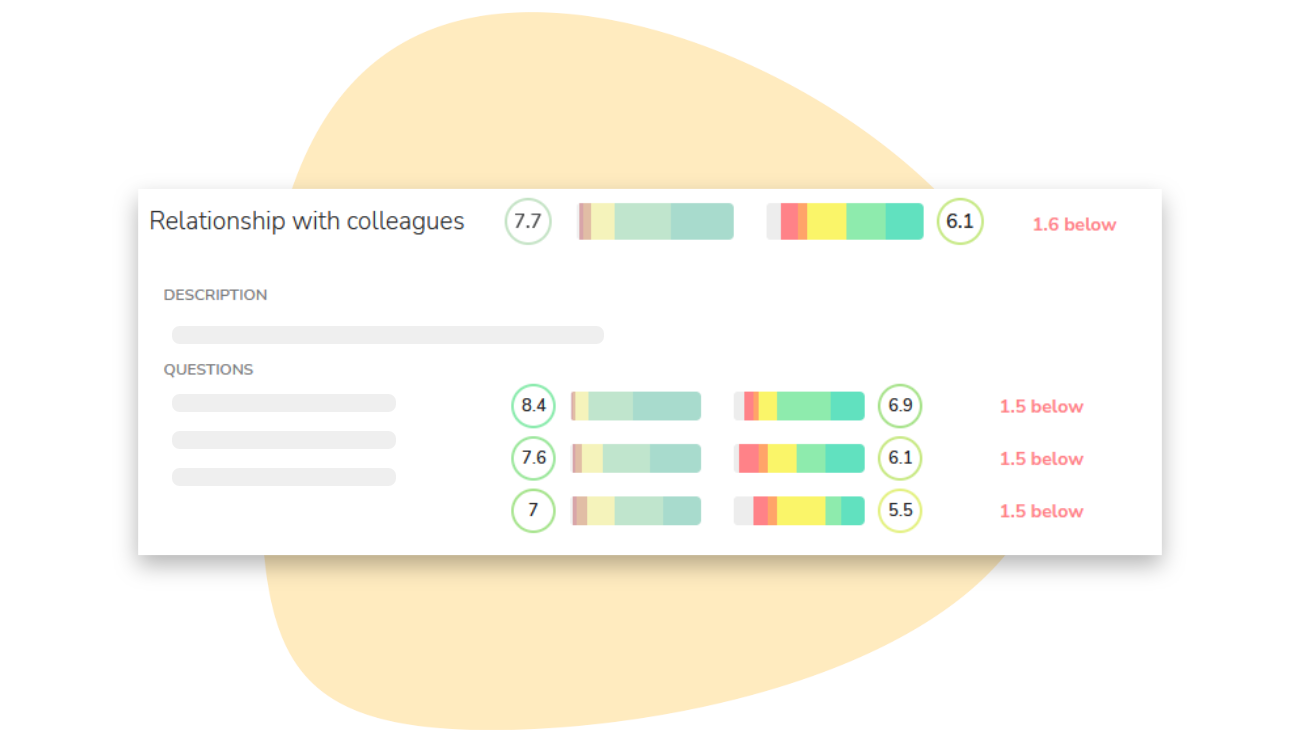 Equips managers with dashboards to visualize their results
Manager dashboards help managers visualize their survey results all in one place. With these dashboards, managers can easily track employee experience trends, and identify strengths and opportunities.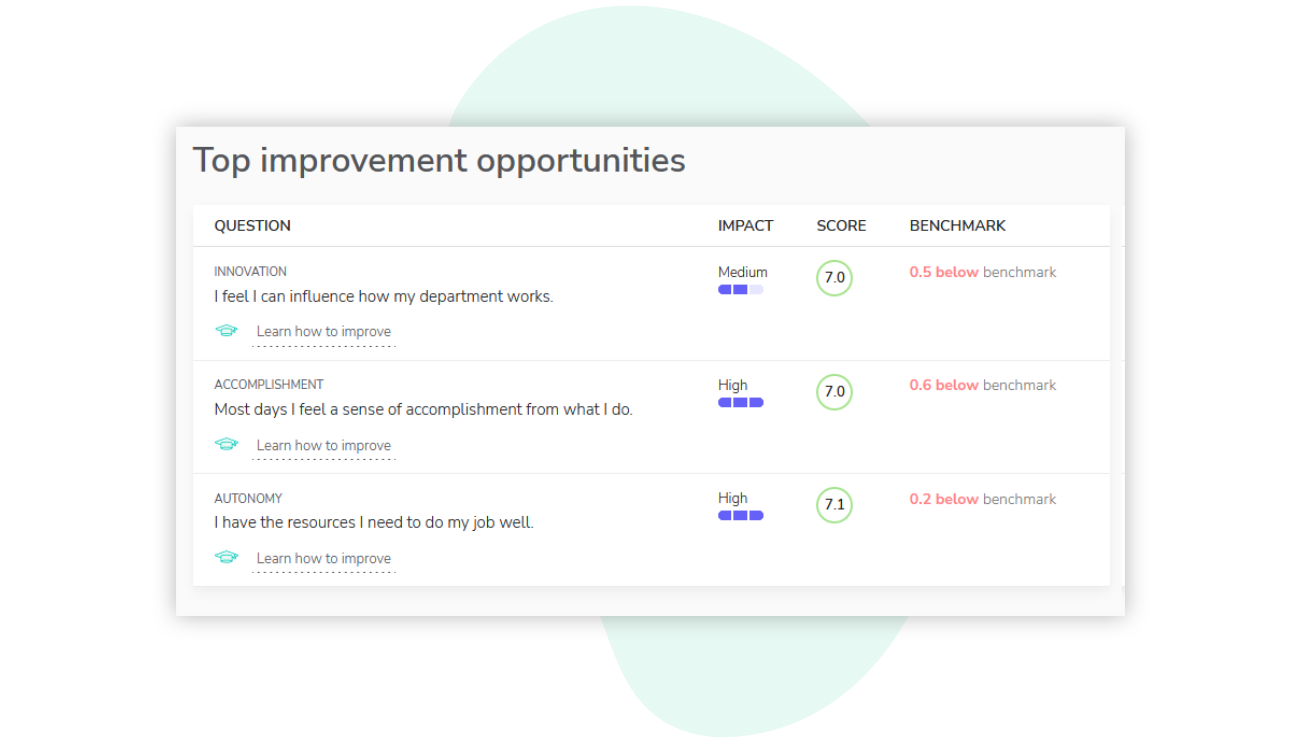 Provides a seamless user experience
You don't want your managers to waste valuable time on a clunky, hard-to-use platform. We designed Sparkbay with simplicity in mind. Your managers will master our intuitive dashboards in no time.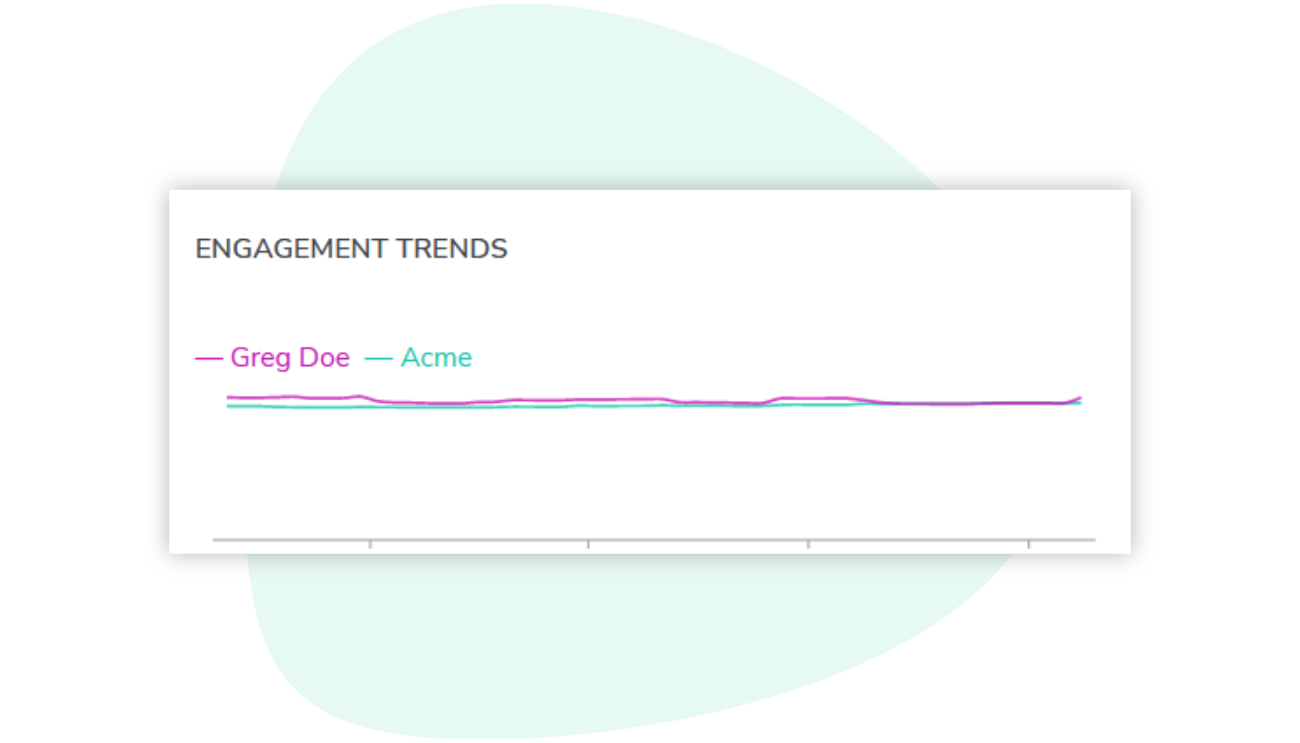 Gain access to real-time results
Taking action is the most significant part of your survey strategy. That's why Sparkbay's real-time results let you expedite your process and propel insights into action.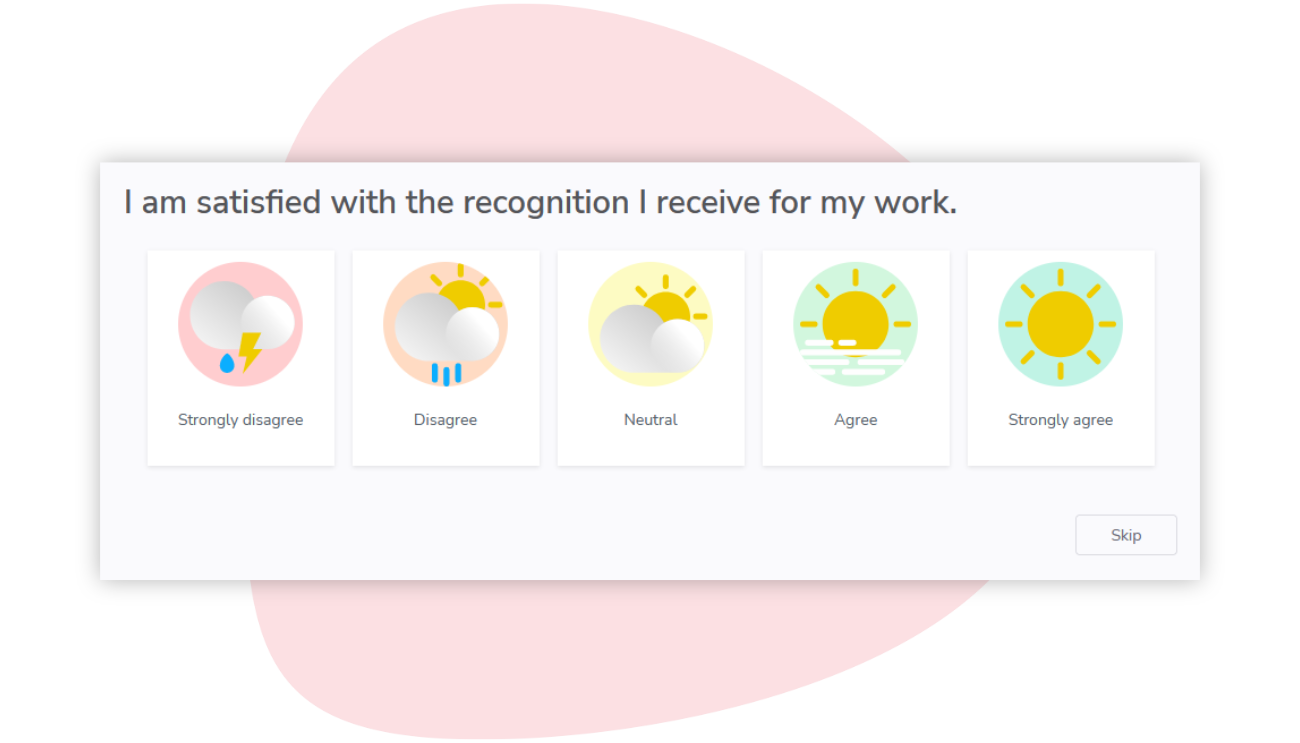 Use an employee survey software to stay in the loop
Sparkbay's employee survey software makes it easy for organizations to understand team effectiveness.
Our tool makes it easy for organizations to distribute surveys and track data while keeping all employees' responses anonymous.
If you're interested in learning how Sparkbay can help you understand team effectiveness, you can click here for a demo.